GUO DOONG LA!!! SIK TONG YUEN AR!!!
Winter Solstice
is said to be even more important than Chinese New Year. but as chinese landed in malaysia a hundred years ago, the custom slowly faded. but then my family keeps part of it. we still make
rice balls
, have a sumptious meal and usually we'll have wine. but then today we forgot to take the bottle out of the freezer. freak!
mi
,
nat
and
i
prepared the
glutinous rice balls
last nite. and as usual, the men will b seated around, watching tv, reading papers and...looking. at least
max
sat bside me and paid severe attention! hehe...had a great time! mowed the balls until my palms were sore and ate 2 bowls of it with sugar water. IT WAS FANTASTIC!!!
(of course it's good since i oni get to eat it once every year...how i wished i could eat everyday!!)
woke up around 11 this morning. went to midvalley with my
dad
and shopped...for...erm...can't mention here cos it's supposed to be a gift. walked all over!! north, south, east, west court looking for it. went to
oasis
for assam laksa(yes...i had noodles again) but di seemed to njoy it a lot! then met
yin teang
and
li fah
in watsons. they were so fucking thin...i looked like a hippo beside them. i look like a hippo bside everyone. DUN CARE! THE GYM MUST HELP ME! TT!! I WANNA GO TO THE GYM RITE NOW!!!
went to this cafe called
YOYO
and had pork chop bun. with my dad, it's always, window shopping, MPH, toy's r us and EATING! and we enjoy every outing to the maximus! it's so relaxing. ooh! bought myself a pair of earrings and a bracelet. sales!! can't blame me.
walked around until 4++ then we left. came back and had more rice balls. and i am still eating.
mi
prepared prawns, fish, chicken, 'sang choi' and...soup(wa wa choi and chicken soup)...JENG!
i'm having the leftovers now. toking about being hippo. PFFT!!!
I LOVE WINTER SOLSTICE!!!
i hope the pastry w buy for the rice balls can last me a year!!!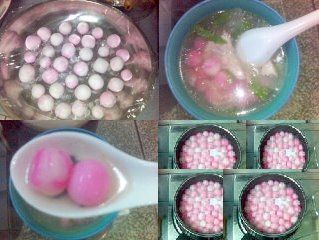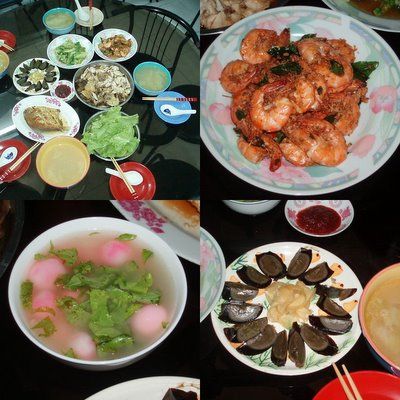 *credits to nat nat...she...oni she has the patience to do all these...pfft! hahahahhaa