set the
christmas tree
up. wanted to fill the tree with
red
and
purple
decos but we didn't have enough. we had more of the other colors instead so we decided on red and gold. satisfying!! the ambience is here...!!!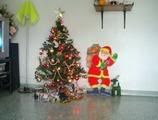 the Santa is drawn by my dad...he used to draw all sorts of stuff for festivals and it'll b stuck all over the walls at home. SO NICE!! no more larh! damn lazy d now.

went to
Sg.Wang
with my
dad
and
nat
today. came back with loads of rubbish. candle holder, purple candles, dvds, sunglasses and XXXXXL pyjamas which sleeves are double my size and length up til my knees!! and it's thick. no idea when i'm wearing. mayb when i sleep...HEHE
the candle holder is a star shape glass holder. to hold up the purple candles i bought. i waste money every christmas buying decorative items. CAUSE THAT"S WHAT XMAS IS FOR!! wahaha...gembire!
went for
vietnamese beef noodles
today. jalan-jalan then went for tea. then after leaving
Sg.Wang
we went for noodles again in sg.besi. DAMN KAO GOOD!! sluurrp!!!
going for swimming tomoro with
linda
then lunch with
quin-li
. haven't seen the gal in ages and i wonder if she's still as thin as she used to be. or even thinner. tsk tsk tsk. hate these ppl so much...TEEHEE!!...just joking. i love her loads.
*************************************************************************
Midvalley looks glamorous!!!