can't freaking post the pix i want to for the whole afternoon. hmph anyway, the presentation went successfully well. he only had to complained cos he wanted to.
Quote: But it doesn't matter la. i like to complain about everything and anything
---> was what he said after every bit of criticism that flew out of his 'always-moving' mouth. he was impressed which was a very good...and very difficult thing. worth all the time we spent rehearsing, worth giving up the juicy slimy humungous oysters which i NEVER TOUCHED(i ate oni 1 ok?!!!) at jogoya. ALL I COULD DO WAS STAND AT A CORNER WATCHING HOW OTHERS NJOY THE HEAVENLY SHELL!!!!! *BAWLS!!!!*...and all these for 5 marks. so pathetic. *rolleyes*
went to YUEN the STEAMBOAT RESTAURANT again after that. i swear i'll never touch steamboat for the rest of the year. i can still smell the fishballs...*goes green*. bt then it was awesome. had loads of fun with the gals and they sweetly told me stacy wanted to go home and grab sum money, but went to baker's cottage and got me a cake instead...HOW LOVELY!! MWAH MWAH MWAH!!!
then went for Happy Feet. it's the Cuteness-Giler-Babi-Dun-Watch-Confirm-Regret type. mayb it's cos of elijah wood. haven't heard him for SUCH A FRIGGIN LONG TIME!! and when i do, he's a penguin. a penguin that loathes for trust and goes all out sacrificing everything to save his...'people'. aaaawwww....so darn cute.
supposed to brag abt the presents i got because mostly were imported...*sumthing goodwhen ur pals are diluar laut'. so here goes...
from the parents...can see from the big big dog frontcover. confirm from them
from lynnie, the roomate and the housemate
from daddy...
from nat and the bf
from daddy as well!!!
stila lipgloss and perfume from the gang, 2 cards from aus and hawaii which i suka giler babi...2 cakes and 3 celebrations.
i love birthdays!! MWAH MWAH MWAH EVERYONE!!!
-----------------------------------------------------------------------------------------
SELAMAT HARI JADI CHIA SUE LYNN MY SIAO SIAO BABE!!!!!! MWAH MWAH MWAH!!!!!!!!!!!!
like i said, i'll catch the angels and make sure they shower lots of love on you ok??? *grins*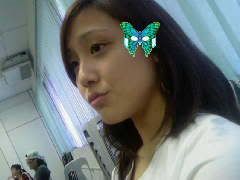 my only entertainment in class...camwhoring around and editing her pix. :D...