homosexual and transexual themes dominated the Golden Globes on monday. grabbing 4 awards including Best Picture[drama] and Best Director, i still can't accept the truth that BROKEBACK MOUNTAIN is being banned in Malaysia. when the heck can i watch it?!! the only thing i can do now is to catch a glimpse of terribly short clips of the movie which increases my thirst for the movie even more...and not to mention, Jake Gyllenhaal. AAAHHHH!!!
the movie is so gay. the shot of jake removing his jacket desperately ogling at heath ledger's lips...dissolves me!! i can't believe my pretty boy is such a...man!! WAHAHAHAHA...
i expected both the stars to appear hand in hand at the red carpet but sadly, jake didn't even turn up. *sobs*
ran around ss2 to hunt for the dvd but it's not out yet. and the worst news is even Jarhead is not clear...sigh.
gay...gay...gay...WOOT! i like! haha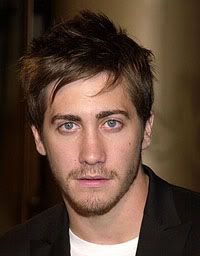 he can't be too clean-shaven. he'll look like jimmy livingston, the naive bubbleboy he played in...Bubbleboy. and it can't be too much. he'll look like an ape...I LOVE THIS PIC!!
sumtimes, u still have to adore them even if they look like buttheads...MUAHAHA!!!
p.s- he deserves a nicer and deeper voice. his is...way to squeaky. the 'i want to get to niagra falls by saturday to stop Chloe from getting married' phrase fr bubbleboy still haunts yookie when i imitate him...WAHHAHAA